BOSS. Gaming: back from iGB Live! 2018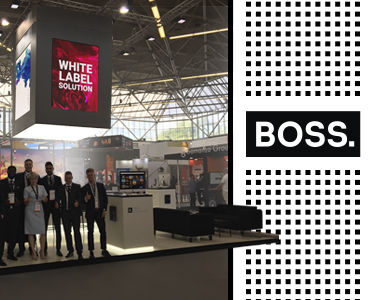 Let's remember that iGB Live! appeared as the result of merging of such events as the Amsterdam Affiliate Conference, the iGaming Super Show, and EiG, and now is one of the largest iGaming exhibitions in the world.
Boss Gaming was lucky to participate as the experienced exhibitor which already took part in the event last year. The team was lucky to communicate with the representatives of other iGaming companies and game providers as iGB is not just a meeting hall and a marketplace, but also is an educational forum and social hub for iGaming soft suppliers, regulators, opinion formers, and industry leaders.
BOSS. As an independent provider of white label, casino, and sports betting solutions, Boss Gaming was pleased to present its iGaming products, meet existing and potential partners, and strengthen its market positions. Moreover, Boss Gaming has undergone the total rebranding and brought its new look to the attention of visitors.
Catalina Lukianenko, Chief operating officer, Boss Gaming says: "We made a total rebranding of our company, and it happened to be finished just before the show. So, iGB Live! visitors and exhibitors were among the first who saw Boss in its new style. Rebranding is always an experiment, and you can never know how people would react. This year, we were lucky to hear a lot of positive feedback about our stand and our new company brand. iGB also became a great opportunity for us to present cases created during the 2017-2018 years, as well as our new products and solutions. The newly created slot games and sportsbook were the subjects of a great interest, together with our main product - BOSS. Platform. Overall, we met our business objectives and strengthened our existing positions through participation in the show. In a word, iGB gave us enough inspiration to drive Boss Gaming success up to the highest point."
iGB 2018 gathered gaming experts from all over the world and was divided into the following sectors: Amsterdam Affiliate Conference, Alternative Lottery Forum, the IMGL Masterclass, iGB Live! HQ, and Global Presentation. Due to this separation, every company could find the most interesting topics to discuss. Exhibitors demonstrated their achievements and shared the results of implementing such technologies as AI, machine learning, the blockchain, etc.
Boss Gaming solutions credits organizers, exhibitors, and visitors for a great time at iGB Live!