Angels vs Demons: Another Epic Slot from ThunderSpin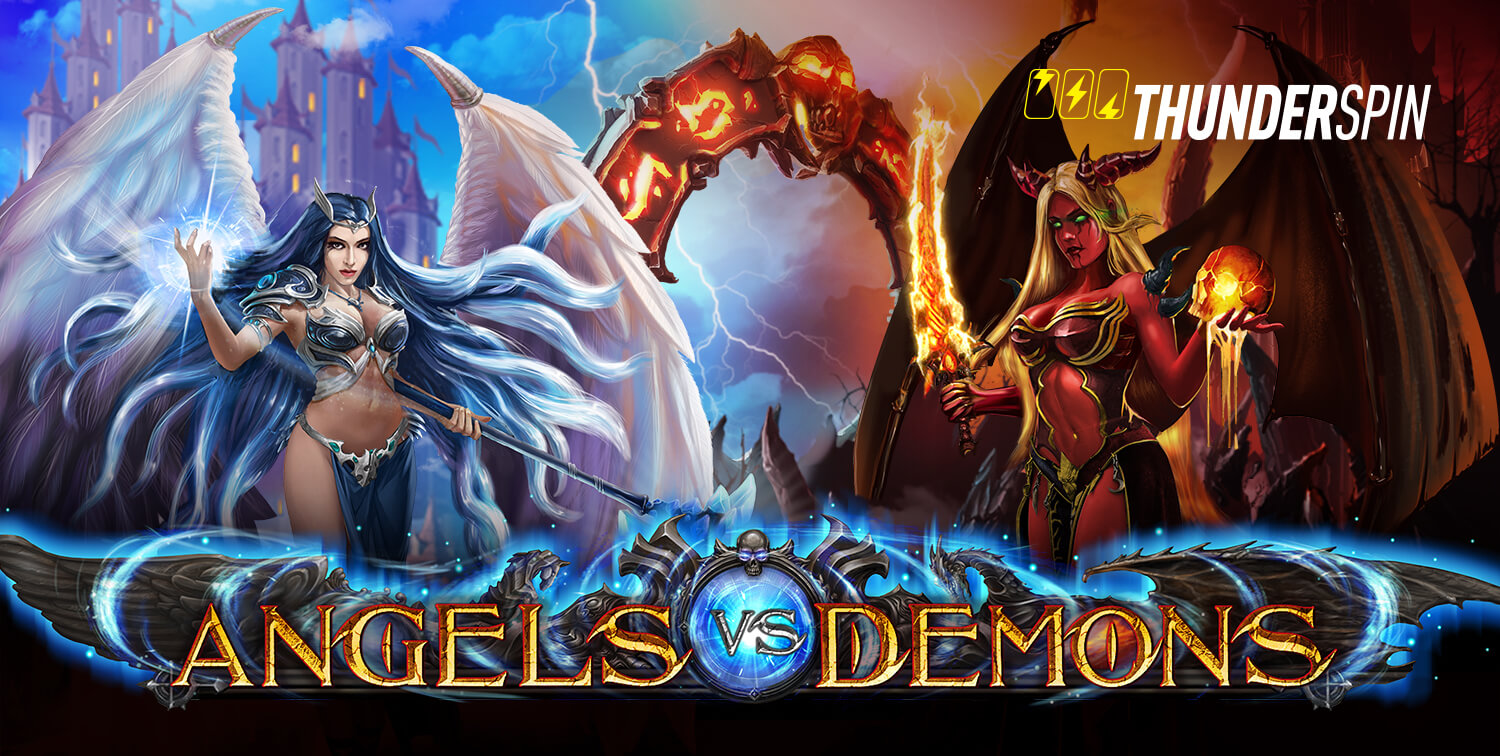 What side are you on when it comes to a battle between good and evil? Would you support the powers of light and bring Heaven to the world or drawn into darkness with the beasts of Hell? Time to find out.
ThunderSpin are proud to announce the launch of Angels vs Demons, a new slot game, created to deliver you a great time no matter which side you fight on.
The five reels three symbols high are placed on the contrasting background divided into an angel and demon sector. The celestial light and silky soft clouds accompany the stairway to Heaven at the left, while the diabolic fire shines the path down to the Hell dwellers' castle on the right.
There are two types of Wild symbols in the Angels vs Demons slot. The Angel Wilds appears on the reel one, while the Demon Wilds show up on the reel five. The Wilds move along to the opposite side at the start of each re-spin which ends up when no Wilds at all remain on the reels.
Free Spins are triggered by the Double Wild which appears when Angel and Demon Wilds merge together in the main game, and vanishes after Free Spins are activated. Depending on the sector where symbols have merged, Free Spins are divided into Angel and Demon ones.
The celestial symbols (Fairy, Grail, and Angel) are absent when Demon Free Spins are played, and the other way — no demoniac Imp, Skull, and Demon symbols when you play Angel Free Spins. Each free spin type is granted in the amount of five.
An amazing thing happens when Angel and Demon Wilds confront on the reel three. This is when Totem Bonus is triggered and reels 1 and 5 fill up with full-sized Wild symbols. Moving towards each other, they increase wins and, having merged in the middle, start the way back to their positions.
"Angels vs Demons is one of the most alluring slot games we have ever created," commented Project Manager from ThunderSpin Dmitriy Dubinin. "We believe, players will appreciate it and embrace its magical ambience with pleasure".
The neutral book symbol has the highest payout, while demonic and angelic symbols are equal. We hope you enjoy our new slot game, Angels vs Demons.